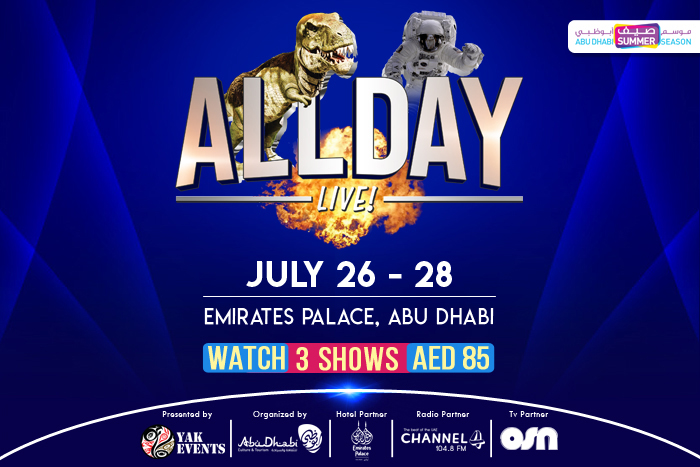 Shadow Theatre in the United Arab Emirates, Abu Dhabi
This is not the first performance of shadow theatre in the United Arab Emirates. Verba team has already performed at festivals in Abu Dhabi, Sharjah and Ras al-Khaimah.
When you have been working as an artist for a long time and it would seem that you have already conquered dozens of countries, there is still a place for pride if you are invited to perform at a very famous concert hall. Conversation is about the most expensive hotel in the UAE – Emirate's Palace.
The concerts of shadow theatre Verba were held as part of the Allday Live festival from the 26th to the 28th of July, 2018. Organizers were the largest event agency of the Middle East – Abu Dhabi Events. And the artists were presented by the well-known agency Yak Events.
Shadow Theatre Verba performed with a one hour show for 3 days in a row. All these days were sold out. The actors brought their famous show "Kingdom of shadows". And judging by the reaction of the audience – they were most impressed by the updated shadow performance "Harry Potter", as well as the performances of acrobats and gymnasts.
In addition to the Ukrainian shadow theatre Verba, the British "The Hollywood Special Effects Show" also performed. The name speaks for itself. Artists revealed the secrets of the special effects of Hollywood films. The kids were delighted! They could try to make snow themselves, or messing around with fake blood. The show was held in interactive mode.
Each session was closed by American led-light theater and their show Moon Mouse A Space Odyssey. Actors showed the story of the Mouse, which flew to the moon. As scientists have proven that it consists entirely of cheese. The one who gets there first will become the most famous mouse in the universe. At the same time in the hall was complete darkness. All the actors were in led-costumes, and all the props were made of LEDs.
Interestingly, the Emirates Palace is known not only for its living conditions, expensive decoration inside, the most strict and numerous guards. It is also often chosen as a film set. A sensational film about New York fashionistas – "Sex and the City 2" was filmed here.