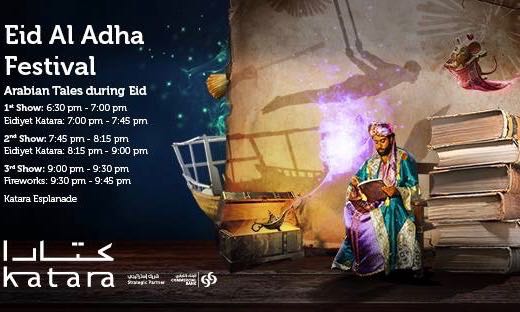 Verba shadow theatre in Qatar – Eid al-Adha Festival
From September 1 to September 4, 2017, was performance of Shadow Theatre in Qatar. It was the Eid al-Adha festival for guests of the Katara Cultural village in Doha.
These days, the entire Arab world celebrates the Eid al-Adha holiday. Traditionally, in the days of this holiday, they hold various festivals.
Actors of  Shadow Theatre Verba performed as multi-artists this year. This is because, in addition to the shadow theater, the Ukrainian team surprised the Arab public with the neon show Madagascar, humorous acrobatics and animation fights.
The whole show was based on the adventures of Juha and his Donkey. This short shadow number was created specifically for the festival in Sharjah a year ago. For this festival, organizers asked Verba Shadow Theater to expand this performance. Team combined shadow show about Juha with other works of the group.
In the performance of the shadow theater Verba Juha traveled around the world, became in Jinn, and played the role of the Hatter with Alice in Wonderland.
The full version of the show you can see by clicking on the link – Eid Al Adha Show